BIG GENERATOR HAPPY NEW YEAR
1/1/16

Happy New Year from everyone in the Big G camp.
BIG GENERATOR COVER JOHN FARNHAM CLASSIC
2/11/15

Here's a recent cover we did of the John Farnham Classic "You're The Voice"


BIG GENERATOR LIVE IN BAHRAIN
1/11/15

Hey all we're heading back to the Middle East for the second time this year !!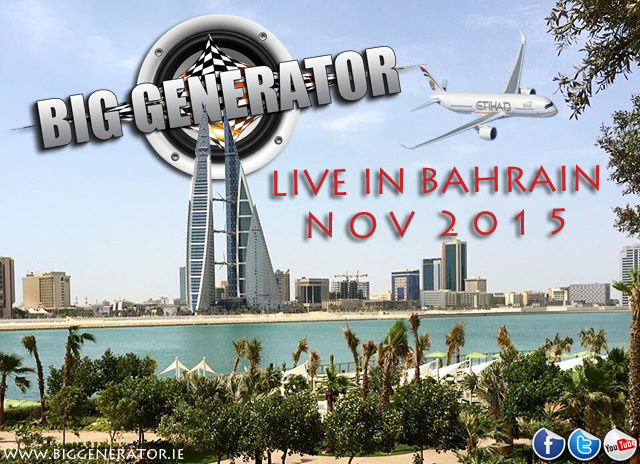 BIG GENERATOR ABU DHABI TOUR DIARY
1/10/15

Here's a quick behind the scenes look at our last visit to Abu Dhabi.
BIG GENERATOR LIVE IN ABU DHABI
1/3/15

We're very proud to be heading over to the Middle East for the second time and visiting our friends in Abu Dhabi in the UAE, please let any friends you might have out there know we're coming !!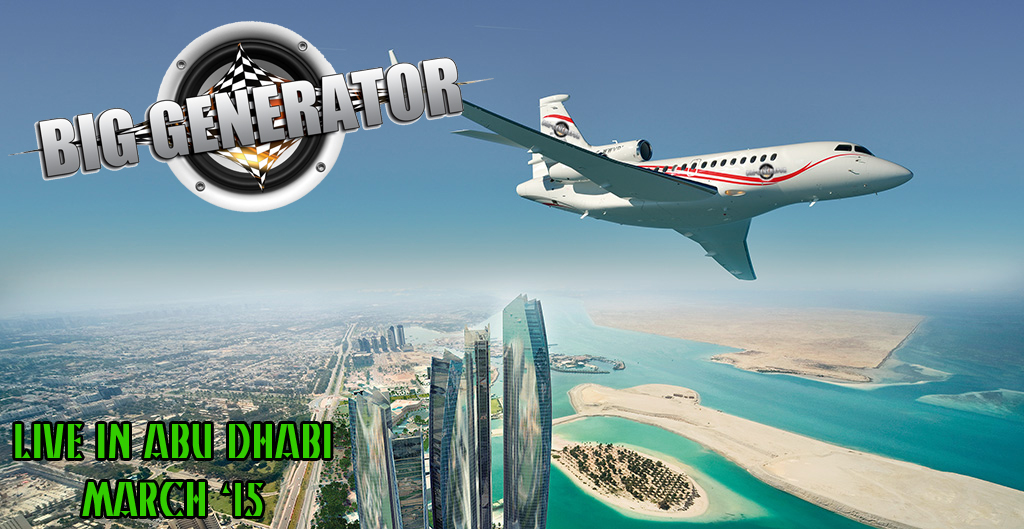 BIG GENERATOR LIVE IN LONDON
6/1/15

We're heading back to London next week so spread the word with all your friends over there.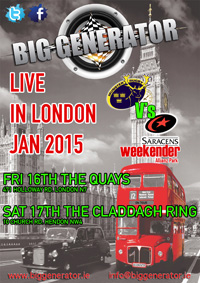 BIG GENERATOR NEW YEAR
1/1/15

Happy New Year to you all and thanks for your ongoing support.
BIG GENERATOR NEW VIDEO
8/11/14

Here's the official video to our single "Going Through The Motions" Enjoy !

BIG GENERATOR NEW SINGLE
7/11/14

Our new single went into the itunes rock chart at no:1 and the itunes top 40 chart at no:2, it also entered the official irish chart at 25, so huge thanks to everyone for their support including all the radio stations for continuing to play it.
BIG GENERATOR NEW LOOK
24/6/14

Out with the old and in with the new this week, total revamp of our posters, website and advertising materials, so you might need to get used to the new white poster look and logos.
BIG GENERATOR BACK IN LONDON
9/5/14

Hey all we are returning to London again making it the 4th time since January "thats 1 weekend out of every month out of the country so far" we are playing the UK Bank Holiday weekend of the 23-25 of May. Friday 23rd sees us at The Quays in Holloway Rd. London and then on Sat 24th & 25th we play back to back gigs at the infamous Claddagh Ring in Hendon. Get spreading the word !!
BIG GENERATOR HOLLAND TOUR DIARY
21/4/14

Hey we're back.... that was pretty WILD !! we managed to film most of our trip so here are the PG rated videos to show you what went on !!



BIG GENERATOR WELCOME NEW DRUMMER
28/3/14

Just a quick update to say a big welcome to our new drummer Mr. Tony Rice. He's a huge Travis Barker fan so I guess we might have to throw maybe one Blink 182 song into the set at some point !! Here he is in a recent soundcheck just noodling about...